Chestnut Class are begining an English unit on instructions, in particular, recipes. So we decided that we would make a start by following verbal instructions, to make mud pies. The results were very messy. Some of realised the importance of following instructions and listening carefully.
Galleries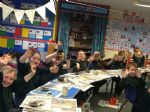 Making our mud pies.
Today we sorted foods into the correct food groups and then used them to help us to create a healthy menu or plate of food.
Galleries