This week we began our new topic, Tribal Tales, by visiting Wild Woodcraft. We had the opportunity to build prehistoric homes, build and make a real fire, and to cut, gut and cook a fish on a real stone age camp fire. Later, we ate the fish, they were delicious. We had a great day, which will hopefully inspire lots of great work this term.
Galleries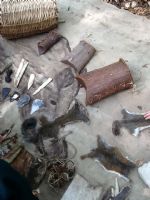 Wild woodcraft
Today we were lucky enough to have a visit from a local PCSO, she told us all about the important work the Police do, as well as teach us about what we should do if we ever need the help of the Police. She really was proof that, not all heroes wear capes.
Galleries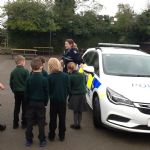 Our local hero visit
Chestnut Class spent the afternoon looking for rocks. Later, we brought them back to the classroom to sort them, according to their properties. If only we had a volcano in Heckington so that we could find some igneous rocks too!
Galleries
Finding and sorting our rocks
Chestnut Class are begining an English unit on instructions, in particular, recipes. So we decided that we would make a start by following verbal instructions, to make mud pies. The results were very messy. Some of realised the importance of following instructions and listening carefully.
Galleries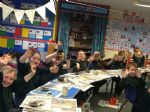 Making our mud pies.
Today we sorted foods into the correct food groups and then used them to help us to create a healthy menu or plate of food.
Galleries