Welcome to Hazel Class
Welcome to our class page. Please check back regularly to see what we have been learning in Year 6.
Mrs Ruffy and Mrs Kelly
We wish Mrs Norris all the best as she goes on her maternity leave!
Term 6- The Final Stretch is here, year 6!
This term we will be doing all things play and performance! Take a look at our topic map (click the image below!) to see what this term entails as we prepare for life in secondary education whilst celebrating all we are brilliant at as the class of 2019!
Term 5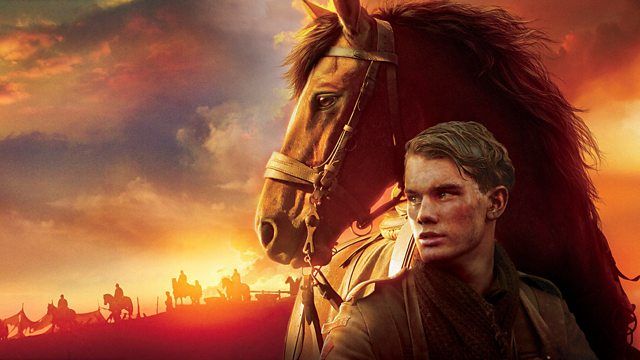 This term's programmes of study will be underpinned by our novel this term: War Horse. The children will analyse and discuss the text during daily guided reading sessions and then further develop their ideas in poetry, play script work and recount work. Humanities study will focus upon lifestyles in the countryside contrasted with that in the cities during WW1. Children will explore the different experiences through Joey's (War Horse) perspective in the first instance before thinking more broadly to impact on human life.
Science and Technology will see children encouraged to develop their scientific enquiry through posing questions around the subject of voltage and circuits, and an emphasis upon use of data loggers to collect data. As we approach the final term of primary education, our year 6 pupils will be applying their excellent English skills to produce some written explanations of their scientific findings. We will also be making horse puppets in DT, which will lead into a large scale puppet project in term 6.
ILP focus

English

English

Poetry, spoken language, letter writing, recount

Maths

Area, perimeter, volume, arithmetic, reasoning and problem solving

Science and Technology

Electricity, scientific enquiry

Using data loggers

Art and Design

Puppets. Art- Observational drawing

PE

Dance and multi skills

PSHE

Healthy me - Relationships

Humanities

WW1- comparative study of life in the cities and in the countryside

RE

Presentation of studies: 'life journeys' in Hinduism and Islam
How can you help at home?
As we approach SATs, it's business as usual in class to reduce any anxiety and remind the children of what they are so very good at. We are reinforcing that what we are learning are skills for life beyond primary school and showing off the children's strengths and talents as they enter Key Stage 3.
To support children at home, continue reading for pleasure, and discussing the themes of the different books being read. Also continue to access Times Table Rock Stars with a focus on speed and accuracy.
Shakespeare in Action becomes Pantastic for Hazel Class!
It goes without saying that the last few weeks have been incredibly busy. So busy in fact that many of the children's topic books are already full! From dissecting Shakespeare's A Midsummer Night's Dream and mastering the complicated tangled web, to coaching Juniper class in the comedic methods and multiple plot lines in the script. This all then led to a workshop where the play within the play became the prime focus. Within this workshop, our budding actors and cast of Pantastic developed characterisation through how they carry themselves throughout the play- to tell a back story of a complex character through gesture, posture, facial expressions and tones of voice.
We are now at the stage where we can rehearse our play in full, with thanks to the hard work of the children and Mrs Brown in making the props and back drops.
Keep an eye on the newsletter for performance dates.
It would be really helpful if costumes could be ready and in school in a named carrier bag by Friday 5th July.
A huge thanks for all your support with this production. The cast cannot wait to perform Pantastic!
A Midsummer Night's Dream Launch
What an incredible first week diving into this Shakespearean classic to launch our final term in year 6!
The children have acted out the entire play (in a nutshell!) and have a deep understanding already of the character traits and woes of the unwittingly starcrossed couples. The children have worked hard to write their own short stories in the style of Shakespeare, a conversation between two characters that includes language indicative of the play's time period, and offered agony aunt written responses to the dilemmas some of the key characters face.
Mrs Kelly has delighted us with her impressive reenactments of what is her favourite play which has helped us to see what a funny playwright Mr Shakespeare was (great Bottom impression, Mrs Kelly!).
Next week we will develop our Shakespeare experience further with a Bailey and Burns workshop that will also help us work on our class project- Pantastic!
Tomorrow we head to Greenacres to meet our resident buddies- we are so looking forward to getting to know all about them and sharing some biscuits. We will be writing stories for our buddies as our final narrative challenge at primary school!
Here's to a wonderful term!
War Horse inspired formal letters
Mrs Kelly and I are super proud of the independent writing produced today as part of our novel study this term. The children chose a different character as their muse and wrote a letter to another key character in the book. Some fabulously creative work all while referring to what we have deducted from our novel so far. Impressive writing, year 6!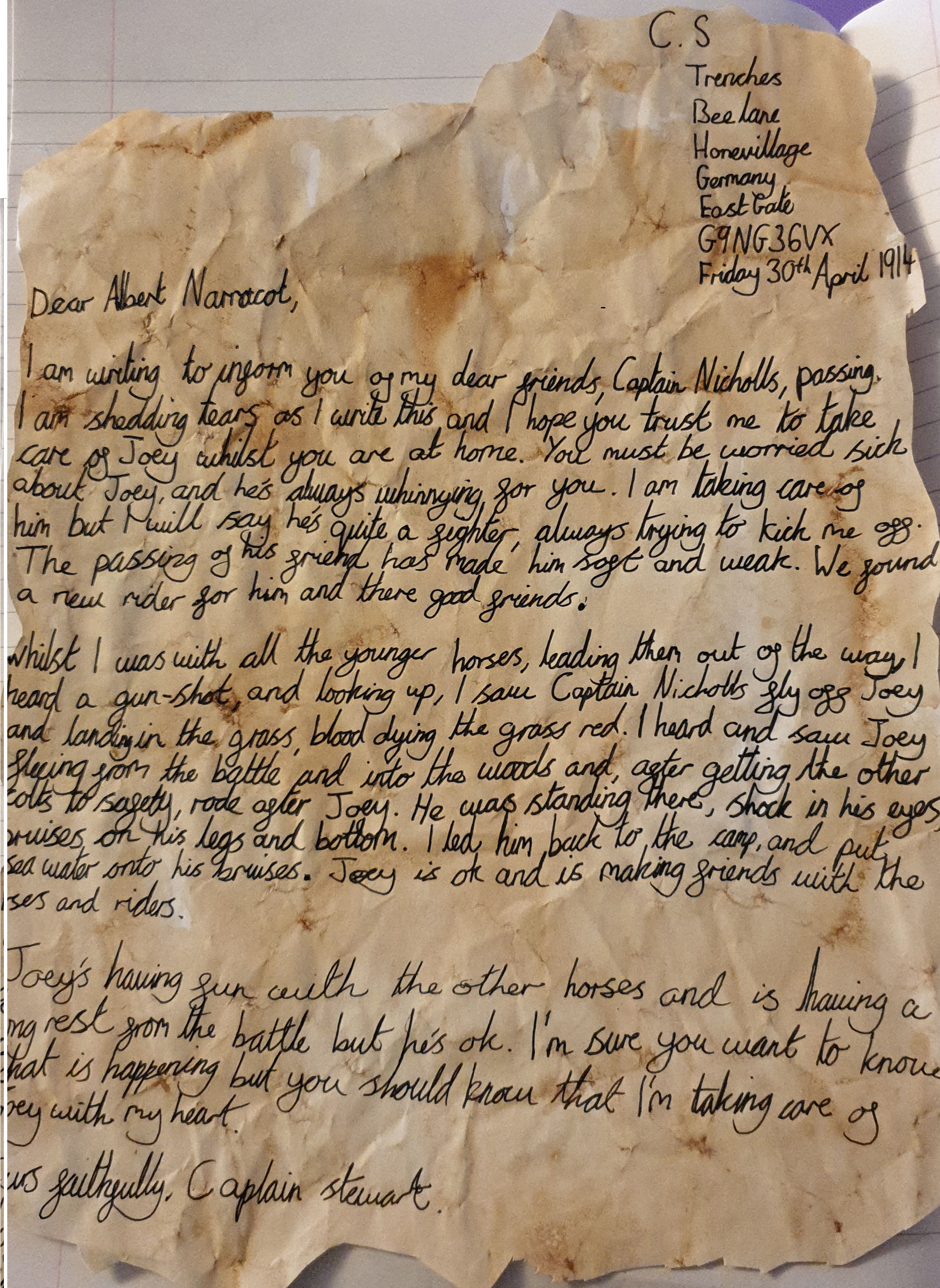 Art and DT project underway for term 5!
As we launch our novel study we looking at the wider application of skills we can use across the curriculum. As War Horse is a popular stage production, we are looking at its effective use of puppetry to design our own hand held Joey inspired puppets.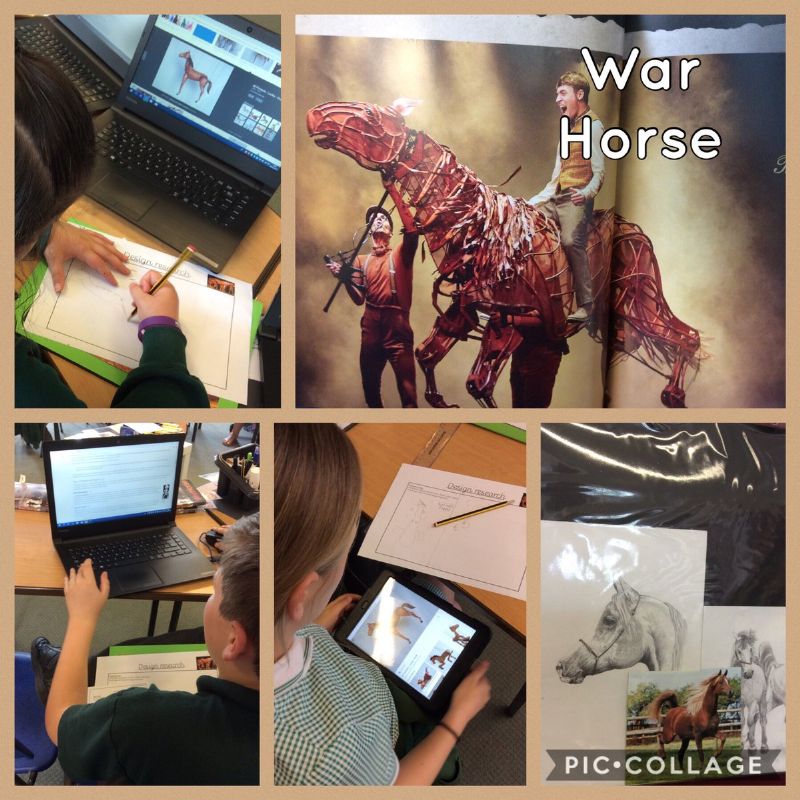 We started our design research with some sketch work of horses, looking at their majestic form and how we can honour the War Horse in our art work. As we develop our drawing and pencil techniques we will redraft and improve upon this drawings.
Next, we need to apply our sketch work to a design of our own for a Joey puppet. The children are researching different types of puppets that can be controlled by hand before designing their own Joey.
Watch this space for more insights into our project as it unfolds!
Active Maths
Hazel class had a great morning doing active maths! We were using our skills and knowledge to find fractions and percentages and match deciamls to fractions. Some excellent teamwork with superb reasoning. Mrs Ruffy was impressed with how confident the class were doing the activities!
Galleries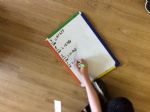 Active Maths