Hazel class had a great morning doing active maths! We were using our skills and knowledge to find fractions and percentages and match deciamls to fractions. Some excellent teamwork with superb reasoning. Mrs Ruffy was impressed with how confident the class were doing the activities!
Galleries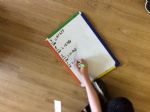 Active Maths
It's World Book Day today! Year 6 brought a variety of props and books for us to discuss and share with one another. Take a look at some of their favourites...
Galleries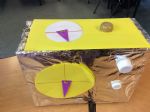 World Book Day
On Wednesday, Mrs Ruffy joined us to help us with our learning objective to understand how our resting heart rate correlates with fitness levels. The children took their resting heart rates - with only a few children convinced they weren't alive - and then had a dance off! Some excellent moves had by all (including Mrs Ruffy!). We then went outside and timed how long it took us to run the length of the cage - we just about managed to escape the rain too...
When back in the classroom, and our heart rates returned to a somewhat more normal rate, we began to look at how to plot this information on a scatter graph. Both Mrs Ruffy and I were exceptionally impressed with some of the accuracy and presentation of our graphs. The children were able to extrapolate and infer from the data that those with a lower resting heart rate seemed to have a quicker race time. From this, we suggested that those with lower resting heart rates were probably fitter, however, the children were able to identify several areas in which we could both improve our investigation and our graphs.
Well done Hazel class!
Galleries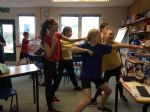 Heart rate and fitness
Our new topic this term is 'Blood Heart' so of course it seemed appropriate to try and make some of our own blood samples! The children became experts at knowing the different components of blood and were then able to identify these once our blood samples had settled.
Take a look at the gallery below to see how we got on.
Galleries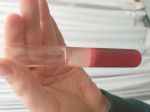 Blood Heart
Both Mrs Norris and Mrs Kelly were incredibly proud of Hazel class who indepedently chose what they wanted to share with thier parents in our class assembly at the end of the term. This really demonstrates thier secure knowledge and skills as well as showcase thier confidence.
Well done Hazel class!