On Wednesday 7th November, Years 5 and 6 visited Lincoln University to take part in a furturistic technology and science event linked to Star Wars!
The children were very excited to try their hand at virtual reality, robot making, lightsabre battles, robotic coding and more.
Galleries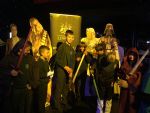 Future 2.0
On Friday we had lots of fun watching the BBC's live lesson with Dr Who based on Space. We had to be very active in class to help Dr Who save our planet.
We were really lucky to have a visit from StarLincs Planetarium. The children had a fantastic time learning about the planets and stars. It has been a fantastic launch to our new topic Stargazers.
Galleries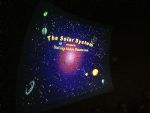 Planetarium
This week we had Mrs Milnes from KSHS (Sleaford) to run an art lesson linked to our topic Stargazers. Mrs Milnes shared with us one of her favourite artist Roger Dean. We looked at some of the paintings he has done before creating our own Space landscapes.
We look forward to Mrs Milnes coming back next month where we will be adding some Aliens to our paintings.
Galleries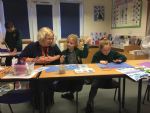 Space Landscapes