Today, Chestnut class have had a wonderful day on their Stone Age topic trip at Wild Woodcraft. We have built dens, made fire, gutted, cooked and eaten fish and so much more. We learned just how long the period of the Stone Age was, we discovered the Stone Age man was very intelligent and quite ingenious. We had a wonderful day and were very lucky that the rain held off.
Galleries
Wild Woodcraft
Today, Chestnut class wanted to discover how water travels from the root on a plant. So, we decided to set up an investigation. The children will given free reign to investigate however they choose. They decided what they would do, how they would do it and how they would make sure that it was a fair investigation, to ensure that our results were reliable. We made sure that we made a hypothesis before we began. We used, celery, water, food colouring and a container. What would you have done with this equipment? What do you think will happen? We can't wait to find out!
Galleries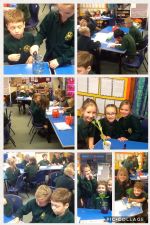 Plant investigation
As part of our Stone Age topic, we asked the question, What did hunter-gathers eat and how did they get it? So to answer this question today, we looked at poo, lots of poo. We cut up our poo and compared the contents. Was it Stone Age poo, or poo from modern man? We discovered what Stone Age man ate and then looked at just how he came about hunting or gathering this food and how their diet differed from ours. It was quiet a lesson, a lesson I doubt we will forget easily.
Galleries
Poo investigating
Our current English objective is to create a set of instructions on 'How to wash a woolly mammoth'. Before we can do this, we need to ensure that we fully understand how instructions work. So, we spent the morning following as set of instructions to create our very own woolly mammoths. What do you think?
Galleries
Woolly mammoths
This week, we have been contiuing our science investigations. We needed to work out how erosion occured. We sped up the process with rocks in a container and gave it a good old shake with water. Guess what? We got our very own sedimentary sediment. We know that rocks in our area are sedimentary and could have come from many areas in the surrounding areas, or even from other countries!! Wow! Chestnut Class are doing great investigations in sciene.
Galleries