Year 6 have been researching and making Mexican food as part of their Mexico topic. The children first investigated what makes a healthy and balanced diet within Mexican culture. As part of our design and technology project, the children then looked for a dish that looked tasty and inspired them.
In groups, the children brought their ingredients in and then made their Mexican treats for parents to be our taste testers.
Were you brave enough to try the food?
Galleries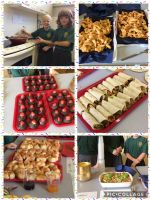 Mexican Food
Hazel class have been learning about Mexican culture as part of our 'Hola Mexico' topic; the 'Day of the Dead' is in an important festival celebrated every year to honour and remember their loved ones. It is a joyous and happy celebration! The children have created information posters that will tell interesting information: the festival is to honour those who have died; during the celebrations, favourite food of their loved ones will be left out; candles are lit to welcome spirits back into the realm of the living; and music is often played - with some people wearing noisemakers on their costumes - to help wake up the dead and keep people feeling happy.
To make our masks we first drafted our designs on paper. Once happy with the look, we mapped our patterns with pencil and then decorated with ink pens. It is much harder than it looks!
Galleries
Dead of the Dead Masks